HSCP Virtual Offer Longitudinal Evaluation Event
Date & Time:
Thursday 22 September 2022
(12:00 - 13:00)
Notify me of future occurrences of this event
Venue:
Virtual Course, Microsoft Teams
Detail:
HSCP are committed to ensuring that the HSCP virtual training offer is effective in meeting its aim of bringing professionals together to develop knowledge and skills and emphasise the benefit of working together to deliver positive outcomes for children and families.
HSCP undertake evaluations of each live event, using the information provided by delegates in their post-course evaluation, to continually develop and improve the offer.
As part of HSCP's work to monitor and evaluate the effectiveness of the virtual offer, HSCP are undertaking sessions for longitudinal evaluations, to assess the impact on practice following the training sessions. HSCP are pleased to invite all delegates who have attended training sessions between April and July 2022 to attend this structured session to share with HSCP how the training has supported them in their roles.
Delegates attending this feedback event will receive a certificate of attendance for their record of professional development.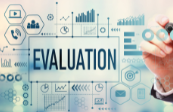 Places Available:
25
Further Information:
Type:
Webinar
Venue Details:
Virtual Course, Microsoft Teams